Cordell Hull State Park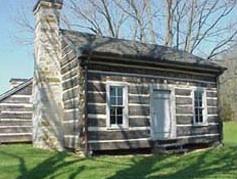 The Cordell Hull Birthplace and Museum is a historic site owned by the State of Tennessee. It was placed under the TN Department of Environment and Conservation, Division of Parks in June 1997 by an act of the Tennessee General Assembly.
The site is located on 45-acres on the Highland Rim, near Byrdstown, north of Cookeville, near the Kentucky border. The site consists of a representation of Hull's log cabin birthplace, an activities center and a museum housing documents and artifacts. Also on the park is beautiful Bunkum Cave Trail leading to an overlook and the actual entrance of historic Bunkum Cave where Cordell Hull's father made moonshine years ago.