Crane Phillips House Living Museum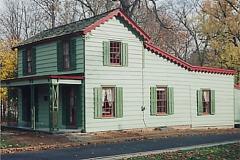 The museum offers visitors a rare glimpse of what life was like for a modest family in the Victorian era of opulence. It illustrates the late 19th century as the "era of invention" and highlights inventions that changed everyday life for the average person by way of the house's second owners, the Phillips family. Henry Phillips was one of the first inventors of the modern kitchen range hood and his brother, Dr. Charles H. Phillips, was the inventor of Phillips Milk of Magnesia.
The house features an outstanding collection of Native American artifacts, Revolutionary War and Civil War artifacts, other arms and armaments, 19th century tools and farm implements, a charming little Victorian parlor and "Kate's room", a Victorian girl's bedroom circa 1870. Changing exhibits include major displays from the Society's extensive antique clothing collection.