Cumberland Islands National Seashore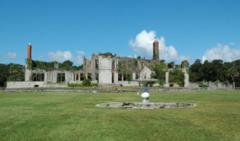 Preserved and protected for future generations, Cumberland Island National Seashore includes designated wilderness areas, undeveloped beaches, historic sites, cultural ruins, critical habitat and nesting areas, as well as numerous plant and animal communities. Interpretive and educational programs are available and you may hear compelling stories of the many people who have shaped and been shaped by Cumberland Island.
Revolutionary War Hero General Nathanial Greene purchased land on Cumberland Island in 1783. Following his death, his widow Catherine Greene, constructed a four-story tabby home that she named Dungeness. Thomas Carnegie and his wife Lucy began building another Dungeness on the original foundation in 1884. The Carnegie's Dungeness burned in 1959 and today only the ruins remain on the site.
Plum Orchard is an 1898 Georgian Revival mansion building by Lucy Carnegie for her son, George and his wife, Margaret Thaw. This mansion was donated to the National Park Foundation by the Carnegie family in 1971. The contribution of Plum Orchard helped achieve congressional approval for establishing Cumberland Island National Seashore.
In the 1890's, The Settlement was established for African American workers. The First African Baptist Church was established in 1893 and then rebuilt in the 1930's. It was the site of the September 1996 wedding of John F. Kennedy, Jr. and Carolyn Bessette.
Guided tours help visitors learn about the many historic places on the island.