Dakota City Heritage Village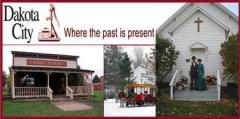 With over 20 buildings, including a blacksmith shop, postoffice, and even a jail, this living history village emulates life in the early 20th century.
Dakota City Heritage Village offers visitors the chance to experience rural life in 1900-era Dakota County. A recreated historic village and museum, the five-acre site includes 22 buildings that help to tell the story of life in a 1900 rural town. Dakota City offers special events throughout the year where visitors will experience living history firsthand with costumed interpreters and demonstrations.
Dakota City focuses on how rural communities functioned 100 years ago and how residents met their need for food, shelter, clothing and social interaction.
In Ahlberg Heritage Center, visitors can view permanent and temporary displays on Dakota County and Minnesota social and rural history, with an emphasis on agriculture.