Daniel Boone Homestead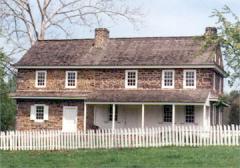 The Daniel Boone Homestead, located near Reading, Pennsylvania, is a state historic site which preserves a number of historic structures. The Homestead offers many historic programs and exhibits, preserves 579 acres of open space, and provides passive recreational areas.
Daniel Boone's parents first settled the site in 1730 and the region was populated by many diverse people-- English, Welsh, Scots-Irish, Germans, Swedes, Huguenots and Lenape Indians. Daniel was born here in 1734 and spent his first 16 years here before his family migrated to North Carolina.
Today the site tells the story of Daniel's youth and the saga of the region's 18th century settlers by contrasting their lives and cultures. This region left a lasting impact on Daniel Boone's life, and on the history of Pennsylvania.