David Crockett Birthplace State Park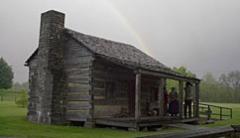 Davy Crockett's Birthplace has been preserved by the State of Tennessee Department of Environment and Conservation as an historic site within the state park system. The site consists of 105 partially wooded acres of land along the Nolichucky River in Greene County, Tennessee.
The museum at the park contains exhibits which tell of the different aspects of the life of Davy Crockett. Visitors can learn a lot about Crockett the hunter, the politician, the businessman and the legendary hero as portrayed in the Walt Disney movie of the 1950's. A short video about Davy Crockett can be viewed in the museum during business hours. In addition to the museum, a cabin replica is a short walking distance from the museum. The cabin depicts a typical frontier cabin much like the one in which Davy Crockett was born in 1786. Located in front of the cabin is the engraved footstone to the original cabin. After visiting the museum and cabin, the visitor can look for his or her own home states' natural stone incorporated in the Crockett monument wall.