Dodona Manor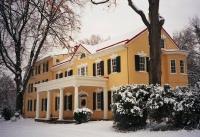 The George C. Marshall International Center was founded to preserve Dodona Manor, the beloved home of George and Katherine Marshall, and to further the legacy of General Marshall, considered by many to be America's hero to the world. After Marshall's death in 1959, his home and property fell into significant disrepair. Normal upkeep and general maintenance were delayed, flowerbeds and lawns became overgrown, and the property took on a reclusive air. In 1995 a group of concerned citizens led by Leesburg resident B. Powell Harrison organized the George C. Marshall Home Preservation Fund in order to save the house and grounds from demolition. Restoration of Dodona Manor's exterior began in 1999 funded by grants from the Commonwealth of Virginia, the Federal Republic of Germany, and private donations.
Restoration of the interior, including the installation of modern utilities and environmentally-advanced heating and cooling systems, began in 2000 and was completed in 2005.
Dodona Manor formally re-opened to the public in November 2005. Situated on 3.88 acres of preserved green space at the entrance to Leesburg's historic district, the house is open to the public year-round. Highly-trained docents offer a rich learning experience for visitors Complementing the museum experience, The George C. Marshall International Center offers a variety of special exhibitions and public events.