Dyckman Farmhouse Museum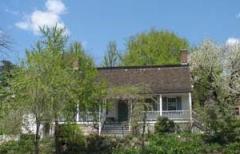 The Dyckman Farmhouse Museum is a visual treat for everyone who looks up and sees it perched above Broadway at 204th Street. The Dutch Colonial style farmhouse was built on this site by William Dyckman c. 1784 and was originally part of several hundred acres of farmland owned by the family. Today, nestled in a small park, the farmhouse is an extraordinary reminder of early Manhattan and an important part of its diverse Inwood neighborhood.
Opened to the public in 1916, the farmhouse and park have been host to a wide range of public programs -- from educational crafts for children to concerts on the back porch.