Eagle Historical Society & Museums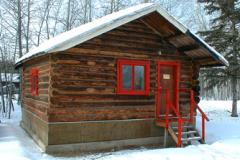 This guided walking tour stops at the six Eagle Museums housed in historic buildings with their exhibits and collections.
Nestled in the river valley with a close view of the Ogilvie mountains, Eagle is often called the 'Jewel on the Yukon.' Established in 1897 during the Klondike Gold Rush, the community still provides visitors with the nostalgic atmosphere of the early days when Eagle was the judicial, commercial, mining and military center for the Upper Yukon. The Eagle Historic Society & Museums work to preserve the legacy of this rich community.