Eastern Oregon Museum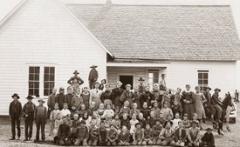 School children love to take a seat at one of the antique school desks and imagine a horse ride to and from our country school. The school room is complete with a wood heating stove, old textbooks, pens and inkwells, a hand crafted world globe, school pictures, and even an old school bell which they enjoy ringing.
For researchers, the Museum has an extensive collection of Haines area school photographs with the names of teachers and students from 1897 onward. Reprints are available for a nominal fee.
The Carriage Wing at the Museum contains early logging tools including axes, saws, saw bucks, adzes, and even one of the earliest chain saws. Photographs are displayed of the early logging camps, horse logging operations, and lumber mills in Baker County.
The mining display contains artifacts from the 1800s Gold Rush days in Baker County including gold rockers, gold pans, assaying equipment, picks, rakes, ore samples, pictures and histories of the local mines. For the rockhound, there are fine agate and thunder egg collections and pictures of the Haines Granite Quarry.
From the gold mining ghost town of Bourne, Oregon the Museum obtained the historic Bourne Bar. Learn about the rowdy past of the gold mining camps.