Edenton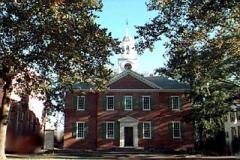 Edenton, North Carolina, is a storybook place. The view across Edenton Bay and the Albemarle Sound from the foot of Broad Street, the lovely waterfront parks, the tree-lined streets flanked by fine eighteenth- and nineteenth-century homes, the magnificent 1767 Chowan County Courthouse with its green running to the water, together yield an unsurpassed feeling of romance, charm, and warmth. (The Chowan County Courthouse is a National Historic Landmark).
Beyond its historic significance, Edenton offers visitors a fascinating look at contemporary life in a small and thriving Southern town. Its three-block-long business district is lined with shops and businesses that cater to both residents and visitors. The waterfront has been given over to parks with vistas across Edenton Bay and the Albemarle Sound. It is not uncommon for residents of the gracious old homes that line the shaded streets to invite visitors to come in for tea . . . just one sign that life continues as it should in Edenton.
Guided walking tours daily from the Visitor Center include historic sites such as St. Paul's Church, ca. 1736; Cupola House, ca. 1758; Barker House, ca. 1782; Chowan County Courthouse, 1767; and the James Iredell House, ca. 1773.