Edsel & Eleanor Ford House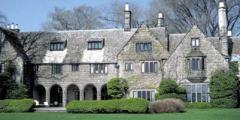 Edsel & Eleanor Ford House tells the story of the home life of a prominent American family. The Fords were cultural, social and economic leaders in an era of great optimism, as well as a turbulent time of economic depression and world war. They were nationally prominent and they owned more than one house, but Southeast Michigan was their home. Here they built their final residence along the shores of Lake St. Clair, at a place known locally as Gaukler Pointe. Their impressive yet unpretentious home is where they raised and nurtured their four children - Henry II, Benson, Josephine and William - in a safe and loving environment. It reflects their love of family as well as their mutual passion for art and quality design.
The house was designed by Albert Kahn to resemble a cluster of Cotswold village cottages, complete with stone roofs, vine-covered walls and lead-paned windows. Strolling through the thoughtfully decorated halls, visitors come face-to-face with a stunningly diverse collection of art, antiques and furniture that reveal the Fords' progressive and educated tastes in art and design.
The Ford House grounds are a work of art in their own right. Designed by famed landscape architect Jens Jensen, the meadow, rockwork and water components appear to be almost completely natural but were meticulously planned.
The estate provided a place for the Fords to relax, raise children and pursue personal interests, shielded from the demands of their public lives. As steadfast supporters of the community, arts and other philanthropic endeavors, the Fords generously donated to education and medical research while contributing immeasurably to the growth of Detroit's cultural resources. Thanks to the generosity of Eleanor Ford, one of their most treasured resources - their home - remains to enrich the lives of future generations.