El Dorado County Historical Museum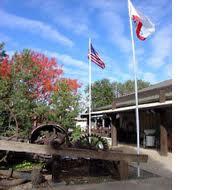 At the El Dorado County Historical Museum, visitors can take an informative tour, wander among the historical artifacts, or research a family ancestor.
Examine the artifacts and photographs from the past. Exhibits begin with a collection of baskets and tools made by skilled artists of the Maidu, Miwok and Washoe Native American people who lived in the region before and after the Gold Rush. Gold was officially discovered in Coloma by James Marshall on January 24, 1848 while constructing a sawmill for John Sutter. Thousands of people traveled to the gold fields in El Dorado County and the neighboring counties to the north and south. The museum exhibits continue the story of El Dorado County after the gold rush was over. Old trails became busy thoroughfares. Farm wagons, carriages, a surrey and even a fully restored Concord Stage Coach illustrate the best means of transportation before automobiles were popular. Artifacts from the past such as a sheepherder's covered wagon, a parlor from a fine home, and a General Store from around 1900 are also on display.