Eleanor Roosevelt National Historic Site (val Kill Cottage)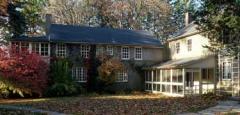 Eleanor Roosevelt chose Val-Kill for her retreat, her office, her home, and her "laboratory" for social change during the prominent and influential period of her life from 1924 until her death in 1962. During that time she formulated and carried out her social and political beliefs. This is the place most closely associated with one of the most prominent women of 20th-century America.
Stone Cottage is located on the grounds at Val-Kill and was shared by Eleanor Roosevelt and her two friends, Nancy Cook and Marion Dickerman. The main building at Val-Kill served as a furniture factory. When the factory closed in 1936, Mrs. Roosevelt converted it into a cottage for herself. Upon FDR's death, Val-Kill Cottage became her permanent home.