Elks National Veterans Memorial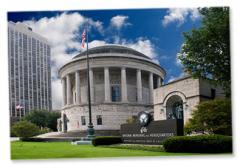 Started in 1923, the Elks National Veterans Memorial honors the members of the Benevolent and Protective Order of Elks who fought in American military conflicts. During the Annual Convention of the Order in 1926, members dedicated the memorial to more than 1000 Elks who died in World War I.
Designed in the Beaux-Arts style, the memorial was rededicated to remember the Elks who served in World War II, the Korean War, and the Vietnam War. It also serves as the national headquarters and overlooks Lincoln Park.