Farmers' Museum, The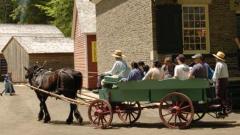 The site of The Farmers' Museum has deep roots in New York State's rural past. The land has been part of a working farm since 1813, when it was owned by James Fenimore Cooper. Judge Samuel Nelson, whose office is part of The Farmers' Museum Village, bought the farm in 1829 and raised sheep. Fenimore Farm, as it came to be known, changed hands again in the 1870s, when it was acquired by the Clark family.
In 1918, Edward Severin Clark built a showcase complex at Fenimore Farm for his prize herd of cattle. The barn, creamery, and herdsman's cottage designed by architect Frank Whiting in the Colonial Revival style and constructed of local stone still stand today and are an integral part of the museum. Today, they house museum offices, exhibition spaces, and public areas. The structures are listed on the National Register of Historic Places.
The Farmers' Museum opened its doors to the public in 1944. At that time, the museum had 5,000 tools and objects, including important collections amassed by the Otsego County Historical Society; William B. Sprague, founder of the Early American Industries Association; and the Wyckoff family, one of Brooklyn's oldest farming families. Today the museum's collections number more than 23,000 artifacts.
The Farmers' Museum collections number more than 23,000 items ranging from butter molds to the Cardiff Giant. The collection of hand planes and other wood working tools is especially significant. The Historic Village is an excellent example of a mid-19th-century farming community in Central New York State complete with an authentic Blacksmith Shop, Pharmacy, Printing Shop, Lawyers Office, Farm, Tavern, General Store and much more.