Faulkner County Museum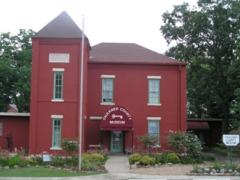 Faulkner County's recorded history begins in 1873, but years before parts of the area were explored and settled by non-natives. And thousands of years before that, Native Americans hunted and fished in the area, leaving evidence of their presence.
The central theme underlying the museum exhibits is the range of environmental conditions found in Faulkner County and how the inhabitants, from prehistoric to the present, adapted to local conditions. The exhibits include artifacts, equipment, household items, clothing, historic and modern crafts, and photographs. These materials are arranged in a series of educational, attractive and self-explanatory exhibits which are combined on the unifying theme of everyday life in the past.
In addition to the museum, visitors can see an on-site dogtrot cabin, relocated from the 8 Mile Store-area to Conway in the late 1960's. The Faulkner County Chapter of Master Gardeners is developing a period Heirloom Herb Garden along with beautifying the grounds surrounding our museum.