Fenway Park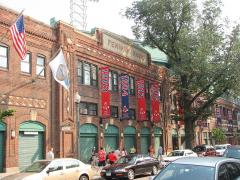 Constructed in 1912, Fenway Park is the oldest Major League Baseball stadium currently in use. Named Fenway Park after the surrounding neighborhood, it has hosted the Boston Red Sox for 100 years. Beginning in 2003, Fenway Park has continued a streak of consecutive sell-outs, breaking the MLB record in 2008. 
Fenway Park is perhaps best known for the "Green Monster", a 37-foot tall fence in left field that stands just 310 feet from home plate. Down the right field line stands Pesky's Pole, the shortest right field fence in Major League Baseball, named for Red Sox infielder Johnny Pesky. 
Baseball is not the only sport that has been played at Fenway. Both the Boston Redskins (now the Washington Redskins) and Boston Patriots (now New England Patriots) played home games in Fenway Park, and in 2010 Fenway hosted the third NHL Winter Classic that saw the Boston Bruins defeat the Philadelphia Flyers.