Fort Montgomery State Historic Site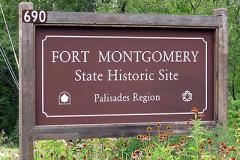 Visitors today can tour the remains of the 14-acre fortification, perched on a cliff overlooking the magnificent Hudson. On October 6, 1977, British, Loyalist and Hessian forces attacked Fort Montgomery and nearby Fort Clinton. The defending American Patriots, outnumbered 3 to 1, fought desperately until driven out of their forts at the points of the enemy bayonets. More than half of the Patriot forces were killed, wounded or captured.
Visitors can learn about this important military post at the new Visitor Center, which showcases original artifacts and weapons, large scale models of the fort and the attack, highly detailed mannequins frozen in poses of battle, and an action packed fifteen minute movie of the 1777 assault. Archeologists have revealed many of Fort Montgomery's remains, including stone foundations of barracks, the gunpowder magazine and eroded redout walls.
There is a spectacular view of the Hudson River from the Grand Battery, where reproduction cannon stand guard and are occasionally fired by the fort's staff. The past comes alive at Fort Montgomery with living history demonstrations of artillery, musketry, music and camp life activities.