Fort Raleigh National Historic Site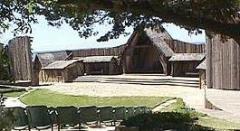 The stories of Roanoke Island are told by exhibits, artifacts and the 17-minute park video Roanoke: The Lost Colony. In the summer, park rangers offer interpretive programs and activities. Earthen works restored on the site are associated with England's colonization efforts that were sponsored by Sir Walter Raleigh from 1584 to 1590. An adjacent spot has confirmed evidence of metallurgical activity from the 1585 exploration expedition.
The Thomas Hariot Nature Trail offers a 20-minute pocket wilderness experience of the island's natural setting. Wayside signs on the trail relate what English explorers observed of the natural resources and the commodities that could be made from them. The Freedom Trail leads 1-¼ miles from the nearby Elizabethan Gardens through the park land to the island's western edge, offering a viewshed that the native Algonquians enjoyed from their island home. At the trail's west end, signs discuss the Civil War Battle of Roanoke Island and of freedom found on the island by escaped slaves.