Fort Winnebago Surgeon's Quarters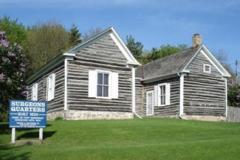 The building holds surgical equipment of a by-gone day in the Surgeons' Room as well as the fort Surgeon's operating table, furnishings of the Fort Winnebago period in the bedroom, sitting room, and kitchen. Several pieces of furniture in the building were made by soldiers of the fort. Among them, besides the operating table, are two desks and the wooden eagle from the fort gate. A prized possession is a sideboard that belonged to the family of Captain Gideon Low, the only officer of the fort who remained in Portage the rest of his life. A Sheraton style piece of about 1800, it was probably brought with them from Pennsylvania.
A narrow stairway leads from the kitchen to the "Children's Room" on the second floor. There toys and furnishings of the period of the farm families are displayed.
Located next to the Surgeons' Quarters is the Garrison School, used continuously from 1850-1960. The school was brought to the grounds in 1960. It was restored and furnished as an eighth-grade country school with one teacher, desks of the past and textbooks representing its 110 years of use.