Franklin Delano Roosevelt Memorial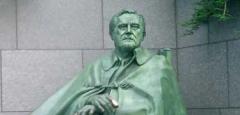 "The only thing we have to fear is fear itself." These are the words of our 32nd President, a man who embodied the meaning of the word courage. Despite being stricken with polio at age 39 and paralyzed from the waist down, he emerged as a true leader, guiding our country through some dark times: the Great Depression and World War II. The memorial honors this man, his story, and his era.
At seven and a half acres, the Franklin Delano Roosevelt Memorial is the largest presidential memorial on the National Mall. Interestingly, it stands near the site of numerous temporary World War II dormitories that housed several women supporting wartime military and governmental services.