Fraunces Tavern Museum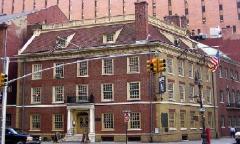 Fraunces Tavern Museum is a survivor of the early days of New York City. It was built in 1719 as an elegant residence for the merchant Stephan Delancey and his family. In 1762, the home was purchased by tavern-keeper Samuel Fraunces, who turned it into one of the most popular taverns of the day. Though it is best known as the site where Washington gave his farewell address to the officers of the Continental Army, in 1783, the tavern also played a significant role in pre-Revolutionary activities. After the war, when New York was the nation's first capital, the tavern was rented to the new government to house the offices of the Departments of War, Treasury and Foreign Affairs.
In 1904, the Sons of the Revolution in the State of New York purchased the tavern and hired preservation architect William Mersereau to return the building to its colonial appearance.