Friends Of Auburn Heights Preserve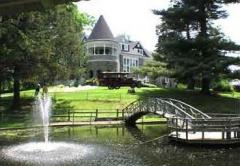 The Friends of Auburn Heights Preserve Inc. and the smaller team of mechanics who operate the Preserves collection called The Marshall Steam Team is a non-profit support group founded six years ago to help maintain and operate the Marshall Museum which includes a premier collection of 14 antique Stanley Steam cars as well as other vehicles and a 1/8th size miniature live steam railroad.
The Marshall Steam Team has spent the past five years learning to maintain and operate the Stanley Steam cars and other vintage vehicles in the Marshall Museum at Auburn Heights. The cars have been taken to many car shows and special events in the Delaware Valley, participated in parades, and hosted numerous special events befitting non-profit organizations such as Preservation Delaware, the Lions Eye Bank, the Wilmington and Western Rail Road, and the Ashland Nature Society, to name just a few. In addition, improvements have been made to the exhibits featuring local Yorklyn history in the Marshall Museum and also maintained and operated the live steam 1/8 size Auburn Valley Railroad which encircles the property.
With the advent of the generous gift of Auburn Heights, the Marshall family home, to the State of Delaware (effective in 2008), the Marshall Steam Team is widening its mission to become The Friends of Auburn Heights Preserve, the State Park site which will be established in the future and which will include over 200 acres surrounding the Marshall family home. Monies raised through future special events will be used for present and future needs related to maintaining and preserving both Auburn Heights and the Marshall Museum and its collections.