Friends Of White Water Shaker Village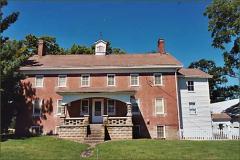 The nucleus of the White Water settlement formed in 1822 when members of the Union Society of Shakers from Lebanon, Ohio, came to share their religion with a group of settlers living near the Mt. Tabor Methodist church, Morgan Township, Butler County. They soon found rich soil, abundant timber, and the flowing stream of the Dry Fork of the White Water River in Hamilton County's Crosby Township and established the Village here. Early converts donated their properties, thus enlarging White Water's holdings.
Intensity of religious fervor motivated construction of the first permanent brick structure, the meeting house, in 1827, followed by a large dwelling in 1832, then workshops, a trustees' office, barns, corn cribs, milk houses, smokehouses, a mill, and other dwellings. Crops of broom corn were the first to be planted, from which brooms were assembled for commerce. The Shakers thrived with sales of seeds, brooms, fruit products, wheat, sorghum, and livestock. As a communal society, no property was individually owned. All members participated in labors for the good of all. A principle of Shaker beliefs is celibacy; Shakers depended on attracting converts and adopting orphans.