Geneva Historical Society & Museum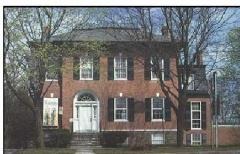 The Geneva Historical Society consists of over 1,000 members in and around the community. The organization is committed to preserving and interpreting the rich culture and heritage of the diverse citizens who have made Geneva the city it is today. Over many years, the society has been able to support its commitment to preservation through its Fund for Historic Geneva and its restoration efforts at the Prouty-Chew House, Rose Hill Mansion, and the John Johnston House.
The Geneva Historical Society Museum and offices are located in the Prouty-Chew House. The facility features marvelous period rooms, costume displays, and changing exhibits on Geneva's history and culture. The site also features a gift shop, staff offices, collections storage, programming space, and the Society's archives and library, which are open to researchers, genealogists, and the public.