George Ranch Historical Park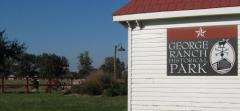 Journey to a place and time where cattle and cotton are king and Texas is a country all its own. Visit the George Ranch Historical Park and discover a treasury of Texas traditions.
Originally settled in 1824 as part of Stephen F. Austin's Colony by Nancy and Henry Jones, this 23,000-acre working ranch stands as a testament to the independent spirit of Texas. Explore the lives and share the experiences that molded this farming and ranching empire and shaped the history of Texas. Authentic locations, historic homes, costumed presenters and a remarkable story of determination and courage set the stage for trekking through Texas history.