Gilbert Historical Society & Museum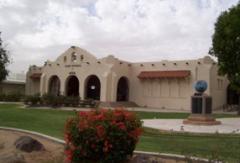 In 1977, the old elementary school at Gilbert and Elliot Roads was abandoned for classroom use. This seemed to be the ideal location for the Museum.
In 1979, the Gilbert Historical Society was incorporated as a non-profit corporation. In June 1980, the school building was placed on the National Register of Historic Places. The old elementary school building has been a Gilbert landmark for more than 90 years, preserving an element of life dear to the community. The society owns the building thanks to the generosity of Otto and Edna Neely and on May 15, 1982, the Gilbert Historical Museum opened to the public.
The society continues to enlighten the community by providing guest speakers at society meetings and continues to acquire new memorabilia for display.