Gordon House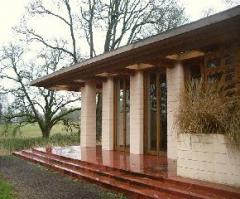 The Gordon House was designed by Frank Lloyd Wright, widely heralded as the greatest architect of the 20th Century. It is the only Wright-designed building in Oregon and the only one in the Pacific Northwest that is open to the public.
The house was designed to follow Wright's "Usonian" model, a design concept that changed the course of small house construction. His innovations included an open floor plan, gravity floor heat, carports, cantilevered roofs with broad overhangs and floor-to-ceiling windows.
Wright designed the home in 1957 for Conrad and Evelyn Gordon for their farm on the south side of the Willamette River in Wilsonville. The house was completed in 1964, and the Gordons lived there for over thirty years.
Descendants of the Gordons sold the property in 2000. The new owners agreed to donate the property to the Frank Lloyd Wright Building Conservancy with a requirement that the house be moved off the property. In January, 2001, The Oregon Garden agreed to move the house by a March 15 deadline. The house was moved 24 miles south to The Oregon Garden where it was restored and dedicated as a public museum in March 2002.