Hanford Mills Museum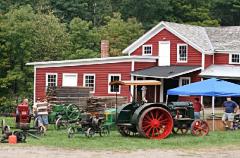 In 1898, Hanford Mills harnessed the waters of Kortright Creek to provide the town with its first electricity. Through time, the Hanfords also used steam and gasoline engines to power the mill and its electric dynamo.
The mill closed in 1967, re-opening later that year as a museum. In 1973 Hanford Mills Museum was chartered by the State of New York. Its significance as one of the last 19th century mills to survive intact earned it a place on the State and National Registers of Historic Places.