Hardesty Higgins House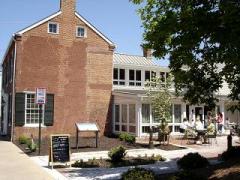 The house was home to Harrisonburg's first mayor Isaac Hardesty. He was born in 1795 and became the city's first Mayor by charter March 16,1849 incorporating the town of Harrisonburg. The Hardesty-Higgins house bears his name and the name of the physician, Henry Higgins who began construction in 1848. Isaac Hardesty completed construction of the home by 1853 and lived in the house with his wife, Ann and two children. He was a successful business man, apothecary, merchant, and he served on the Board of Directors of the Valley Turnpike Company.
Today the building is a multi-use facility operated by Harrisonburg Tourism. Inside you will find Visitor Services, Rocktown Gift Shoppe, Mrs. Hardesty's Tea Room, The Valley Turnpike Museum, future site of the Harrisonburg-Rockingham Civil War Kiosk and the executive offices for Harrisonburg Downtown Renaissance and Harrisonburg Tourism. We opened in July of 2005 to serve the community and visitors to the region. The Hardesty-Higgins House has become the place where history and hospitality meet.