Hays House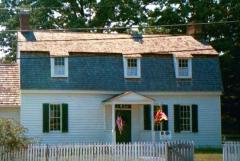 The Hays House, as it is now preserved, is a frame home appearing as it would have during the period 1813-1825. It consists of two rooms on the ground floor with a center staircase leading to three rooms on the second floor. The Hays House is named for Thomas Archer Hays, a prominent attorney and merchant of the town of Bel Air, whose family lived in the house for one hundred and forty years.
The original part of the Hays House was build in 1788-1789 by John Bull. It consisted of one room with a stairway from the first floor to two rooms upstairs. Constructed with a gambrel roof, it afforded two floors of living space, but was taxed as one and a half stories. The house is one room deep with front and back doors and windows directly opposite each other. The ceilings on the first floor are high, and together with the placement of the windows and doors, the design allows maximum air movement and cooling on hot summer days.
Visitors are invited to experience life as it was during colonial times. See people camping in the grounds surrounding the Hays House and living as people would have from 1760 to 1840. See families, back woodsmen, traders, surgeons and apothecaries, and militia men. Watch demonstrations of colonial crafts such as candle making, black smithing, spinning and weaving, bobbin lace making, basket weaving, lead ball pouring for ammunition, powderhorn making, carpentry, and black powder rifles.