The Henry Ford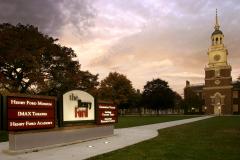 The Henry Ford in Dearborn, Michigan is a national historic landmark site and a multi-day, multi-venue destination that celebrates American history and innovation. With an unparalleled collection of authentic artifacts that changed the world and the stories of some of the greatest innovators that ever lived, The Henry Ford is a significant educational resource for understanding America's history of innovation, ingenuity and resourcefulness. Its mission is to use its assets to inspire future generations to help create a better future.
The institution holds 26 million authentic artifacts and documents, including Thomas Edison's Menlo Park laboratory, the bus on which Rosa Parks refused to give up her seat, the Wright Brothers' home and cycle shop, and Buckminster Fuller's Dymaxion House. Five distinct attractions captivate and inspire more than 1.5 million visitors annually: Henry Ford Museum, Greenfield Village, The Ford Rouge Factory Tour, The Benson Ford Research Center and The Henry Ford IMAX Theatre. The Henry Ford is also home to Henry Ford Academy, a 500-student public charter high school founded in partnership with The Henry Ford, Ford Motor Company and Wayne County Public Schools.
The Henry Ford provides a unique cultural environment, both educational and inspirational, designed to effect positive change in the world by fueling the spirit of American innovation and inspiring a "can-do" entrepreneurial mindset and culture.