Heritage Museum Of Northwest Florida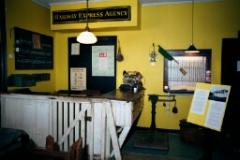 The Heritage Museum is located on the original main street of Valparaiso, Florida. The oldest part of the building was the second home of Valparaiso State (now Vanguard) Bank. In 1964, the building became the first home of Okaloosa-Walton (Junior) College.
The Heritage Museum opened its doors in 1971. The Museum is operated by the Heritage Museum Association, Inc. and is funded by membership dues, donations, and grants from the State of Florida, Okaloosa County, and the City of Valparaiso.
The museum includes exhibits on the history of commercial fishing and the boat industry in Okaloosa County, as well as the Crestview train depot, the opening of which helped turn northwest Florida from a frontier area to an integrated component of Floridian civilization. In addition, it contains a heritage mural and a number of artifacts that range from pre-historic flint spear points to early modern school desks.*