Historic Brunswick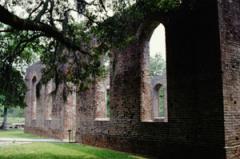 In the late 1950s and early 1960s, archaeologists uncovered foundations from Brunswick's earliest days. The most visible structure is the hulk of St. Philip's Anglican Church with its surviving walls dating back to 1754. Another interesting foundation is Russellborough, an old sea captain's house that was used by royal governors Tryon and Dobbs.
The visitor center houses several displays that cover the time periods of both the old town and the fort. In the lobby is a colorful mural created by Claude Howell and Catherine Hendricksen depicting a scene from a Spanish attack on the town in 1748. A cannon on display was recovered from the river in 1986 and is believed to be from the Spanish ship Fortuna, which blew up in the river as the townspeople regained control of the port.
The remains of homes, businesses, and other buildings bear witness to the story of Brunswick. Along with artifacts from the Civil War and the imposing mounds of Fort Anderson, this site offers a unique look at two fascinating periods of American history.