Historic New Orleans Collection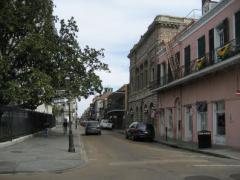 The Historic New Orleans Collection is a museum, research center, and publisher dedicated to the study and preservation of the history and culture of New Orleans and the Gulf South region. General and Mrs. L. Kemper Williams, collectors of Louisiana materials, established the institution in 1966 to keep their collection intact and available for research and exhibition to the public. Over the 40 years since its founding, The Historic New Orleans Collection has added to its holdings and augmented the physical structures that house them, established ambitious publishing and exhibition schedules, and developed innovative educational programs.
In a complex of historic French Quarter buildings at 533 Royal Street, The Collection operates a museum, which includes the Williams Gallery for changing exhibitions and the Louisiana History Galleries (ten galleries showcasing permanent displays) tracing Louisiana's multifaceted past; the Williams Residence (a house museum); a museum shop; and administrative offices. The Williams Research Center at 410 Chartres Street, which opened in 1996, makes available to researchers The Collection's holdings which comprise some 35,000 library items, more than two miles of documents and manuscripts, and approximately 350,000 photographs, prints, drawings, paintings, and other artifacts.