Historic Southern Indiana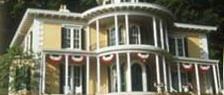 This heritage area contains numerous sites of historical significance, including Vincennes, Corydon, New Harmony, Madison, and Abraham Lincoln's boyhood home. Forests, caves, rivers, and lakes offer scenic beauty and recreational activities.
Historic Southern Indiana (HSI) also is the name of the organization dedicated to preserving, enhancing, and promoting these resources. As a community outreach program of the University of Southern Indiana, HSI hosts workshops, produces publications, conducts visitor research, and facilitates and coordinates with many groups and agencies with the goal of creating a sense of regional identity and pride.