Historical Society Of Carroll County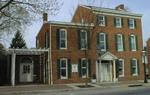 Composed of three buildings, the Historical Society of Carroll County offers visitors a portal into the lives of Pennsylvanian Germans, and promotes educational programs.
Founded in 1939, HSCC is dedicated to the research of piedmont Maryland's cultural heritage and the preservation and interpretation of objects significant to Carroll County history. We accomplish this mission by sponsoring educational programs, research projects, exhibitions, publications, and community outreach programs to provide broad public access to this region's cultural heritage.