Hoard Historical Museum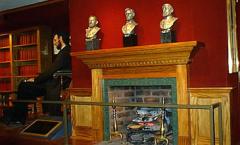 Over 1400 volumes line the shelves of the Lincoln Era Library, connecting Abraham Lincoln to Jefferson County - from his involvement here in the Black Hawk War, to our Civil War soldiers, to his influence on a young William Dempster Hoard.
Over 500 birds, including those mounted by famed naturalist Thure Kumlein, and taxidermist Walter Pelzer, greet the visitor in the Bird Room. Included in the collection is a beautiful example of the extinct passenger pigeon.
The museum also has an exhibit devote to Lorine Niedecker, a "poet of place" who wrote about her environment and experiences on Blackhawk Island, a flood-prone peninsula jutting into Lak Koshkonong just west of Fort Atkinson. Her precise and spare use of words in the Objectivist style of poetry has inevitably led to comparisons with Emily Dickinson, though later in life Niedecker demonstrated a greater range in her work.
With over 4,000 archaeological artifacts, the Native American Artifacts Room details the prehistory of the American Indians who lived in the Jefferson County area. The collection contains stone, copper, and bone tools, as well as pottery and historic fur trade items.
The museum site also includes the Foster House, the first frame house constructed in Jefferson County in 1841.  It is furnished with artifacts typical of the 1840 - 1870 time period.