Home Of Franklin D. Roosevelt National Historic Site (springwood)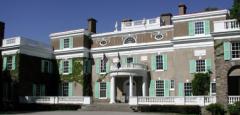 "All that is within me cries out to go back to my home on the Hudson River" This quote captures Franklin D. Roosevelt's connection to Springwood, the estate that he loved & the place he considered home. The first US Presidential Library was started by FDR here. Visit the Home of Franklin D. Roosevelt and Presidential Library & Museum to learn about the only President elected to four terms.
Visitors may enjoy a guided tour of FDR's home, take a self-guided tour of the Museum and stroll the grounds, gardens, and trails of this 300-acre site. Start your visit at the Henry A. Wallace Visitor and Education Center and see the introductory film and arrange for self guided tours of the Presidential Library and Museum and Ranger-led tours of the historic home. We recommend you plan a minimum of two and one half hours to visit.
Also available, FDR's Top Cottage retreat the place he built in 1938 to, "escape the mob" at Springwood. He also brought close friends and political allies here to discuss the state of the world or to simply relax. Designed by FDR to emulate the Dutch colonial architecture found throughout the Hudson River Valley, the structure was planned with accessibility in mind to accommodate his wheelchair and give him greater independence. Tours depart by shuttle from the Henry A. Wallace Visitor and Education Center. This is a two hour experience.