Hot Springs County Museum And Cultural Center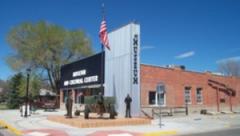 The museum has a Main Street exhibit which contains recreations of a dozen stores from turn-of-the-century Thermopolis. The displays are almost entirely made up of artifacts from actual period Thermopolis businesses. The museum also houses the bar from the Hole-in-the-Wall Bar, a favorite haunt of Wyoming outlaws and supposedly named after the hideout of Butch Cassidy and his Hole-in-the-Wall Gang. Thermopolis was the nearest town to many outlaw hideaways, including Hole-in-the-Wall. The museum also displays remnants of the coal industry that created boom towns in the beginning of the 20th century.
It also has a sizable collection of Native American artifacts, including a collection of tools such as arrowheads and knives, and two elk hide paintings.