Hudson River Maritime Museum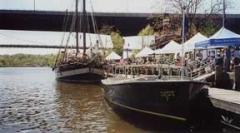 With a collection comprised of paintings, prints, photographs, vessel blueprints, artifacts, ship models and more, the Hudson River Maritime Museum displays the entire past of the Hudson River. One can also find a 100-year-old shad boat, several ice yachts and a life boat from the steamboat Mary Powell. The exhibits extend beyond the walls of the museum to the bulkhead, where in warmer months historic vessels and classic wooden boats stop for a break.
Boat Rides to the historic Rondout Lighthouse are available at the museum.