Humanities And Social Science Library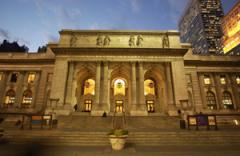 The Carl H. Pforzheimer Collection of Shelley and His Circle is one of the world's leading repositories for the study of English Romanticism. Its holdings consist of some 25,000 books, manuscripts, letters, and other objects, chiefly from the late eighteenth and early nineteenth centuries. Authors included within the collection are Percy Bysshe Shelley and his contemporaries, including his second wife, Mary Wollstonecraft Shelley, her parents, William Godwin and Mary Wollstonecraft, and such friends and fellow writers as Lord Byron, Claire Clairmont, Teresa Guiccioli, Thomas Jefferson Hogg, Leigh Hunt, Thomas Love Peacock, Horace Smith, and Edward John Trelawny.
In the Berg Collection, a selected list of American authors represented by choice and/or extensive manuscript holdings include Washington Irving, Nathaniel Hawthorne and his family, Emerson, Thoreau, Whitman, Twain, James Russell Lowell, Henry James, Ezra Pound, T. S. Eliot (including the typescript/manuscript of "The Waste Land," with Pound's emendations), Randall Jarrell, Marianne Moore, Muriel Rukeyser, Adrienne Rich, Louis Zukofsky, Allen Ginsberg, Saul Bellow, Julia Alvarez, Clark Coolidge, and Aï. Also present are the archives of Vladimir Nabokov, Jack Kerouac, May Sarton, Laura Riding Jackson, Alfred Kazin, Kenneth Koch, Paul Auster, Philip Levine, Terry Southern, and Bruce Jay Friedman.
Exhibitions of varying themes held at the Library highlight these and other collections within the Library.