Hyde Collection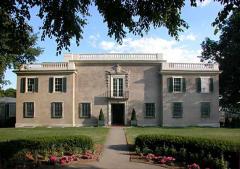 The Museum offers a world class collection of objects that span the history of western art from the fourth century BC through the twentieth century. The Museum's founders, Louis and Charlotte Hyde, acquired the majority of objects during a fifty-year period of avid and highly informed collecting. Many of these works are displayed in their home, known as Hyde House, as well as select galleries in the education wing.
The permanent collection consists of approximately 2,800 paintings, sculpture, works on paper, furniture, and decorative arts. When the Hydes began collecting, their focus was not unlike that of their contemporaries. They acquired Old Master paintings, drawings and sculpture by such artists as Botticelli, El Greco, Raphael, Rembrandt, and Rubens. In their most important decisions, notable scholars William R. Valentiner and R. Langton Douglas often guided them.
After the death of her husband in 1934, Mrs. Hyde continued to acquire new works. In fact, approximately two-thirds of the core collection reflect her personal decisions and taste. It was also during this time that she decided to broaden the scope of the collection. To that end, she proceeded to purchase additional works by such modern masters as Cézanne, Degas, Picasso, Renoir, Seurat, and van Gogh. Concurrently, she assembled a significant group of works by important American artists including Eakins, Hassam, Homer, Peto, and Ryder.
While the majority of the objects comprising the permanent collection were the result of the efforts of Louis and Charlotte Hyde, the collection continues to grow through donations and acquisitions.