Institute Of Texan Cultures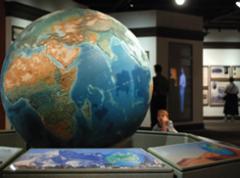 UTSA's Institute of Texan Cultures maintains 50,000 square feet of exhibit space. The Exhibit Floor at UTSA's Institute of Texan Cultures features exhibits that showcase Texas culture, history, science, and technology from many cultural groups, as well as the history of how these groups traveled across the globe to call Texas home. Guests are encouraged to bring their cameras, and be ready to engage all their senses. Many of the exhibits feature hands-on elements. The talented group of docents will share the story of each exhibit, and guests are encouraged to interact with our character performers.
The Back 40 tours at UTSA's Institute of Texan Cultures offer unique, hands-on learning experiences in a historical Texas setting. The Back 40 is the museum's outdoor living history area and is home to a one-room schoolhouse, a log house, a barn, an army fort barracks, and an adobe house—all typical of Texas in the 1800s. Each building serves as an ideal setting for a Texas history lesson. Back 40 tours feature knowledgeable instructors in authentic costumes demonstrating and describing the daily lives of early Texans in the 19th century. Students and tour groups will experience firsthand the hardships and joys the early Texans experienced and will have fun learning in the process.