Intermuseum Conservation Association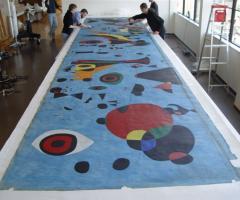 The Intermuseum Conservation Association offers a range of services to its more than one hundred institutional and individual members, as well as to non-member collecting organizations, governmental agencies, corporations, and the general public. These services include laboratory and on-site conservation, climate-controlled storage, custom crate building and display work, surveys and inspections, studio-quality photo documentation, educational programming, disaster assistance, grant collaboration, and publications for both a professional and general audience. In addition, the ICA has initiated AMIEN, a free Internet outreach program providing materials use and safety information to contemporary artists.
The ICA remains dedicated to "art and cultural heritage preservation, conservation, and education" for the benefit of all the citizens of Ohio and the lower Midwest.