International Bluegrass Museum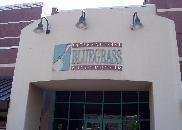 This museum houses a vast collection of bluegrass music memorabilia.
Several interesting exhibits are on display at the museum. The Hall of Honor is an institution devoted to the recognition of noteworthy individuals for their outstanding contributions to bluegrass music.
Founded in 1991, the Hall of Honor is the bluegrass music industry's tribute to the pioneers of the music and the people who have made it great. Located on the first floor of the museum, the Big Mon exhibit tells the story of Bill Monroe, the Father of Bluegrass Music. In addition to items from his estate, visitors can learn about Monroe's early years and how he came to create his music.
A timeline of bluegrass music follows the roots of bluegrass music, from the Scots-Irish string bands to camp meetings and gospel quartets, through fiddling conventions, the jazz era, and the folk music revival.
There are a variety of instruments available for viewing throughout the museum, including a showcase of historically significant instruments and the luthiers who crafted them. There are also instruments available for careful handling, which are located on the "main stage" on the first floor of the museum.