Jack London State Historic Park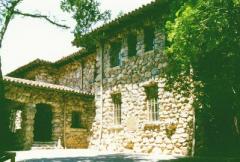 The park is a memorial to writer and adventurer Jack London, who made his home at the site from 1905 until his death in 1916.
The park contains the cottage residence where he wrote books, short stories, articles and letters while he oversaw various agricultural enterprises. After London's death, his wife, Charmian, continued to live in the cottage until her death in 1955. It was her wish that the ranch be preserved in memory of Jack London and his work. The park was once part of the famous writer's Beauty Ranch. A ¾ mile walk takes visitors to a dam, lake, and bathhouse built by London. Other hikes lead up through fir and oak woodlands to views of the Valley of the Moon. Another trail leads to Jack London's grave and to "Wolf House," London's dream house, which was destroyed by fire in 1913.