Jerome Historical Society & Mine Museum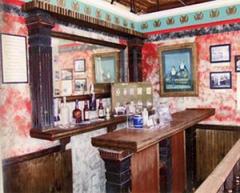 Once the fourth largest city in the Arizona Territory, Jerome boasted a population of nearly 15,000 on its hilltop haven. During its heyday, men and women from all over the world made their way to Arizona to find work and maybe a new way of life.
The museum and gift shop were opened in the early 1950s. With displays depicting the timeline of Jerome's past to its present, items such as old miners equipment to remains of gambling in saloons can be seen within the museum. This month, August 2002, we are finishing up displays on the Chinese in Jerome and the melting pot of other ethnicities that include the Italians, Slavs, Mexicans, Irish, Russians and more. The museum is evolving from pure mining to demonstrating the people who made Jerome what it is.
Artifacts include but are not limited to: the Colt pistol Marshal Johnny Hudgens used to gun down three vigilantes on Main Street in Jerome; mining equipment such as drills, cages, carbide lamps, hand forged miners candlesticks, underground "potty cars", and ore carts; an original Jerome Chinese laundry machine; numerous panoramic photos of Jerome miners and the smelters; household goods such as Jerome milk bottles, dishes, tokens, club memberships and medallions, newspapers; hospital equipment; gambling paraphernalia; and much, much more.