Jewish Museum Of Maryland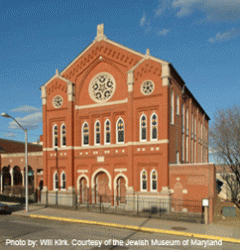 The Associated Jewish Community Federation of Baltimore runs this museum about the Jewish community in Maryland and its history.
The Jewish Museum of Maryland is one of the country's leading centers for exhibits on Jewish history and culture. The museum has two galleries that host changing exhibits of local and national interest. It combines art, rare objects, historical photographs, oral histories, videos, and hands-on activities in engaging, informative exhibitions. Each exhibit created or hosted by the museum reveals new perspectives on the Jewish experience in Maryland and beyond.